---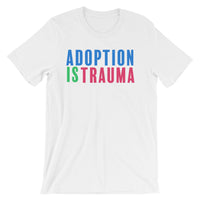 We've learned that in the adoption community "ADOPTION IS TRAUMA" is a controversial statement.
Many people have no idea that every adopted person experiences a trauma when they are separated from their birth mothers, otherwise known as "The Primal Wound".
 This is a new topic for most people so when they see ADOPTION IS TRAUMA, or they read it or hear about it they have a hard time understanding it. Some people simply don't believe it or they attempt to negotiate that "Not all adoptions are traumatic".
The truth of the matter is "ADOPTION IS TRAUMA" isn't something that is able to be negotiated.
It just is.
Regardless of the reason the mother and child were separated, because of the separation it's still a trauma. This isn't new, adoption has always been trauma. What is new is acknowledgement of this trauma, and adoptees and non-adoptees are learning how this trauma can have lifelong issues that can impact every area of our lives.
This might be a new concept for you, but our goal is to raise awareness on the realities of adoption. We ask you open your heart and mind to the fact that it is possible this dynamic of adoption you are learning is something you have never been told about before.
Now that you know the truth, you can't unknow the truth.
At Adoptee Merch. We believe that as long as adoption trauma continues to go unrecognized by society it will only add pain to the trauma we already experience from being adopted. It's extremely painful for many adoptees to experience being relinquished from their birth mothers as a result of this trauma.
Notice we say "many" but not "all". We don't speak for all adoptees but we do feel confident in speaking for those who have experienced the negative aspects of this trauma. It seems it's an invisible trauma by so much of our society that  Adoptee Merch created this graphic design as an attempt to spark conversations about the truth of adoption and raise awareness.
We need to share that not all adoptees seem to be impacted in a negative way regarding this trauma, but every adopted person has experienced ths trauma. This is new territory for some people.  Our hope is to shine some light on adoption being trauma so adoptees can begin talking about that trauma. The earlier we are able to share our feelings, the earlier we begin to heal. 
What happens when society doesn't recognize adoption as a trauma?
Research shows that Adoptee's attempt suicide 4x more than non-adoptees. We also know that the prisons, jails, treatment and mental health facilities are overpopulate with adult adoptees. From experience we know that many adult adoptees struggle with relationship issues, addiction issues, thoughts of wanting to die, wishing they were never born, abandonment, rejection, complicated grief, loss, and complex PTSD, and the list goes on.
Can we really continue to ignore that ADOPTION IS TRAUMA?
I encourage you to attempt to have the willingness to another side of adoption you might have never known about. This is life or death for adoptees. The sooner EVERYONE recognizes that YES, ADOPTION IS TRAUMA the sooner the adoptee will begin to feel validated and listened too and they will hopefully be able to receive some assistance regarding this trauma. Most of the time we need people to acknowledge our feelings being very valid and real and for people to listen and learn from us without the intent to respond or interrupt us.
When you see someone wearing one of these shirts please, Just Listen & Learn and acknowledge that YES, ADOPTION IS TRAUMA.
We've included some recommended resources to help further this discussion and hope this article explains about why this graphic is so important.
Thank you for reading, 
Adoptee Merch. 
"Adoption Loss is the only trauma in the world where the victims are expected by the whole of society to be grateful" - The Reverend Keith C. Griffith, MBE
This t-shirt is everything you've dreamed of and more. It feels soft and lightweight, with the right amount of stretch. It's comfortable and flattering for both men and women.
• 100% combed and ring-spun cotton (heather colors contain polyester)
• Fabric weight: 4.2 oz (142 g/m2)
• Shoulder-to-shoulder taping
• Side-seamed
Size guide
| | | | | | | | |
| --- | --- | --- | --- | --- | --- | --- | --- |
|   | S | M | L | XL | 2XL | 3XL | 4XL |
| Length (inches) | 28 | 29 | 30 | 31 | 32 | 33 | 34 |
| Width (inches) | 18 | 20 | 22 | 24 | 26 | 28 | 30 |